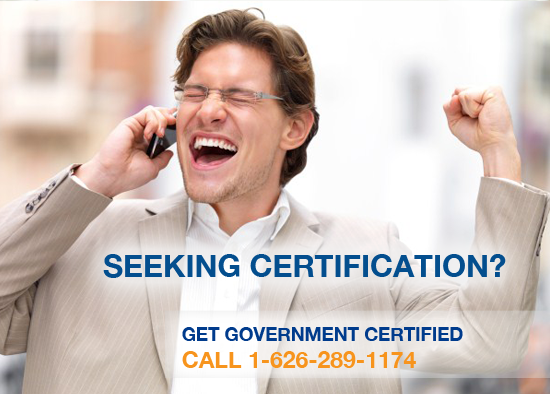 We Get You Certified!
Buchanan & Associates assists business owners packaging and applying for the following certifications:
Community-based Business Enterprise (CBE)
Disabled Veteran Business Enterprise (DVBE)
Disadvantaged Business Enterprise (DBE) Certification
Small Business Enterprise (SBE) Certification
Small Business Administration (SBA) 8(a) Certification
Woman-Owned Small Business (WOSB)
Buchanan & Associates walks you through the process step-by-step with more than a 98% success rate.
Community Based Business (CBE)
Why Participate in the County's CBE Program?
CBE applicants get placed in the County's registry – New CAMIS Vendor Electronic Registration system.
An approved CBE firm receives a 5% bid preference on LA County contracts and procurement.
CBEs also benefit from a 25% CBE participation goal for the utilization of subcontractors that Non-CBE prime contractors must meet in order to do business with the County.
CBEs get included in the County's central vendors listing database which is used by all County departments when soliciting for bids.
An approved CBE is afforded networking opportunities with public and private contracting agencies.
An approved CBE will be included in the County's Directory of Certified Minority, Women Disadvantaged and Disabled Veterans Business Enterprises.
Back To Top
Disadvantaged Business Enterprise (DBE) Program
What is the DBE?
The U.S. Department of Transportation's DBE (disadvantaged business enterprise) program provides a vehicle for increasing the participation by Minority Business Enterprises (MBEs) in state and local procurement.
DOT DBE regulations require state and local transportation agencies that receive DOT financial assistance, to establish goals to include DBEs in the contracting process.
Each DOT-assisted State and local transportation agency is required to establish annual DBE goals, and review the scopes of anticipated large prime contracts throughout the year and establish contract-specific DBE subcontracting goals.
Three major DOT operating administrations are involved in the DBE program. They are the Federal Highway Administration, the Federal Aviation Administration and the Federal Transit Administration.
Some groups are presumed to be socially and economically disadvantaged for the purposes of participation in this program; are you one of them?
If your firm is a woman-owned business, your firm is considered one of the groups presumed to be disadvantaged.
Objectives of the DBE Program
To ensure that small disadvantaged business enterprises (DBE) can compete fair and even playing field for federally funded transportation-related projects.
To ensure that only eligible firms participate as DBEs.
To assist DBE firms in competing outside the DBE Program.
The eligibility cap for regular DBE-certified companies was raised as of April 3, 2009 to $22.41 million in gross receipts average over the last three years before applying.
For most Airport Concession DBEs (ACDBEs), the eligibility cap was raised to $52.47 million; however, ACDBEs dealing in car rentals was increased to $69.97 million.
As an eligible applicant, your personal net worth cannot exceed $1.3 million.
Eligibility Criteria:If you own 51% or more of a small business and you belong to one of the presumed group of economically disadvantaged individuals:
African-American
Hispanic
Asian (Pacific Islander or Subcontinent Asian-American )
Native American
Woman
Back To Top
Small Business Enterprise (SBE) Certification / Disabled Veteran Enterprise (DVBE)
SB/DVBE Preference
State of California agencies use a streamlined process known as the "SB/DVBE Option" by contracting directly with a California-certified small business for goods, services, and information technology valued between $5,001 and $249, 999.99 after obtaining price quotes from at least two California-certified small businesses.
For public works projects, the contract value can be up to $147,000, available for certified small businesses to submit a bid.
The program sets a goal for the use of small businesses in at least 25% of the state's overall annual contract dollars.
The State of California awards some contracts through the "Option Process" where state departments have the power to solicit and receive at least two price quotes from certified small businesses without advertising.
The Small Business Contract Act ensures that certified small businesses are entitled to receive a 5% Small Business preference to their bid to determine if they are eligible for bid award as the low bidder.
A small business, microbusiness, or DVBE prime or subcontractor must perform a "commercially useful function" (CUF) related to the awarded contract's specifications.
Prompt Payment
The Prompt Payment Act of January 1, 1999 entitles certified small businesses, and recognized nonprofit organizations to collect penalties from state agencies if an undisputed invoice is not paid within 45 days of the invoice receipt date.
Late payment by a state agency to certified small businesses results in interest penalties incurred by the agency and it must be automatically included and paid to the supplier.
Non-Small Business Calculation Preference
Non-small businesses that commit top make 25% of the overall contract value available to certified small business subcontractors at the time of bid submission may be eligible for a five (5) percent preference calculation during bid evaluations.  Application of the non-small business preference may not used to displace a certified firm that is the low bidder. The preference calculation is applied for bid evaluation purposes only and any firm awarded using the non-small business calculation preference will be awarded at their bid price.
SBE Certification with METRO
The Metro SBE Certification Program has a mandatory small business goal of up to 25% on most of their transportation construction projects.  This provides an opportunity for small businesses to participate in up to 25% of most contracts awarded.
Back To Top
SBA 8(a) Certification Program
The SBA 8(a) Certification program is a business development program designed by the U.S. Small Business Administration (SBA) to help socially and economically disadvantaged businesses obtain federal contracts.
This SBA minority development program is intended to help disadvantaged small businesses become successful for the future.
Every year 5% of all federal contracts are awarded to approximately 8,500 disadvantaged 8(a) firms; these contracts average approximately $3.5 million in revenue per contract to disadvantaged businesses.
Companies like yours, just starting out, or in a growth stage of your business, can benefit from the wide-range of demands by government departments for contractors like you.
Due to the value of this certification to disadvantaged small businesses, the SBA reviews all applications in great details; that is where Buchanan & Associates (Consultant) comes in with more than 20 years of experience to take care of all of your paperwork and the application process for you, leaving a worry-free experience for you the business owner and applicant.
BENEFITS:
Once certified, your firm is added to an on-line registry of SBA-certified firms maintained in the federal System for Award Management (SAM) registry.
Certified firms remain on the list for three years, but must update company information yearly.
Contracting officers and large business prime contractors search this on-line registry for potential suppliers/vendors and subcontract to award set-aside contracts.
SBA 8(a) certified firms are also eligible for special bidding benefits such as a 5% preference.
Evaluation credits available to prime contractors who boost subcontracting opportunities for SBA certified firms operating in your type of trade and similar.
Back To Top
Women Owned Small Business (WOSB) Program Certification
This program is aimed at expanding federal contracting opportunities for women-owned small businesses (WOSBs). The Women-Owned Small Business (WOSB) Federal Contract program authorizes contracting officers to set aside certain percentage of federal contracts for eligible:
Women-owned small businesses (WOSBs) or
Economically disadvantaged women-owned small businesses (EDWOSBs)
All small businesses that are interested in submitting an offer on a solicitation that has been set aside for WOSBs under the WOSB Program must complete a certification prior to submitting the offer.
Eligibility Requirements
To be eligible, a firm must be at least 51% owned and controlled by one or more women
Primarily managed by one or more women.
The women must be U.S. citizens.
The firm must be "small" in its primary industry in accordance with SBA's size standards for that industry.
In order for a WOSB to be deemed "economically disadvantaged," its owners must demonstrate economic disadvantage in accordance with the requirements set forth in the final rule.
Back To Top